Engineering Office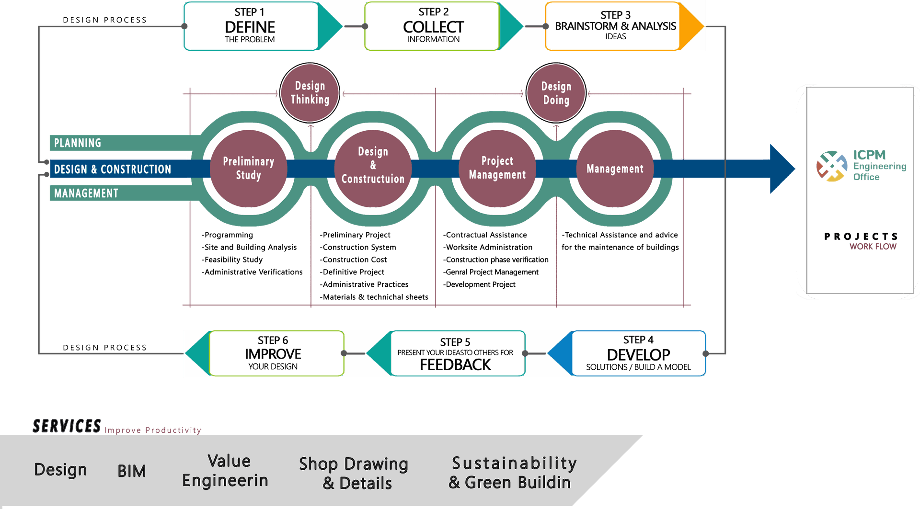 ​
Design is the practical art, uniting form with function, elegance with economy. But it is also a dialogue, one that starts with us listening to our clients; then interacting with the physical context, which influences everything from design to materials; then learning from our various experts who contribute their knowledge and experience.
Architecture Design
Structural Design
HVAC Design
Electrical Design, High and Low current systems, CCTV, Security, Audio sound systems
Plumbing & Drainage Design
Urban Design
Fire Design
Central Kitchen Design
Vertical Transportation Design and Re-validation of existing elevator system
Detailed Specifications
Bill of Quantity
Architect of Record
Interior Design and FF&E
Lighting Design- Feature lighting building exterior and interior
Buildings Theming and Branding
Façade
Facilities Programming and Space Planning
Integrated Building Design
Landscape Architecture
Sustainable Building Design and Certifications



Shop Drawing
Architect will highlight all the provided details. They will compare provided information with the specifications and the other related drawings of project. The purpose of the shop drawings is to describe the specifications of the materials, the joining details, overall and detail dimensions of the product.

If we like to have a successful installation and satisfied client, communication pattern needs to be clear between the parties. We always recommend to check all shop drawings set double time before the emailing 3rd party. The shop drawings need to be exact. It is really hard to turn back after approved shop drawing set. It costs wasting time and money. Shop Drawings Services ready to prepare your next drawing set.
Architectural shop drawings
Structural Shop Drawings
Steel Shop Drawings
Facade Shop Drawings
HVAC Duct Shop Drawings
Plumbing Piping Shop Drawings
Rebar shop drawings services
Metal Wall Cladding Shop Drawings
Cladding Shop Drawings
Stair Railing Shop Drawings
MEP & HVAC Shop Drawings
Electrical shop drawings
Curtain wall shop drawings
Glazing shop drawings
Door & Window shop drawings
Handrail shop drawings
Glass shop drawings
Storefront shop drawings
Glass entrance shop drawings
Landscape shop drawings


BIM

we offer our global clientele collaborative BIM solutions with LOD options ranging from 100, 200, 300, 400 & 500. With our engineering center and our team of 50+ proficient BIM engineers is capable of offering services ranging from development of BIM models from 2D files, documentation in BIM, clash detection to delivering 7D BIM models for infrastructure management.
Architectural BIM Services
Structural BIM Services
MEP BIM Services
BIM Drafting and Drawings
3D BIM services
4D BIM (Scheduling Services)
5D BIM (Estimating Services)
6D BIM Services (Sustainability Services)
7D BIM Services (Facility Management)
Revit family creation
BIM Coordination
BIM clash detection and risk mitigation
Building Information Modelling - ISO 19650
Scan to BIM services
Landscape Modeling
Architectural Drafting
Construction Estimating Services
Structural Shop Drawings
As Built Drawings
Structural Steel Detailing
Precast Detailing/Modeling
Mechanical Equipment Modeling
Clash Detection and Resolution
Isometric Installation Drawings
MEP Design Coordination
Quantity Take Off & BOMs
3D Modeling
ACP Detailing
Curtain Wall Detailing
Precast modeling in Revit
Fabrication Drawings
Detailed Schedules
Shop Drawings
Making Plan, Layout and Elevation Views
Bill of Materials and Bill of Quantities


Value Engineering

Value engineering most often takes place after a design (functional or detailed) has taken place, although the best time to do it is actually before design. A value analysis is undertaken whereby practitioners or subject matter experts gather together to perform the value methodology. The standard job plan consists of 6 phases:


Value Engineering / Value Analysis
Life Cycle Costing
Functional Analysis
Fast Diagram
Risk Analysis
Cost Estimation & Cost Model
Options Screening
VE recommendations

Performance Attribute Matrix




By collaborating with architects, engineers, building designers, contractors and material manufacturers, we are developing an array of chemistries, formulations and materials. These technologies enhance performance, durability, aesthetics and sustainability across the entire built environment. From roads to roofs, from homes to high-rises, we offer solutions that reduce waste, improve efficiency and ultimately achieve the goal of development that is as environmentally friendly as it is visually appealing and structurally and functionally robust.

Sustainability Evaluation
LEED Design Consultancy
LEED Design Commissioning
LEED Construction Supervision
Develop indoor air quality plan
Energy Analysis / Energy Modeling
Structural Analysis
Lighting Analysis
Mechanical Analysis
Green materials and product analysis
Building sustainability and carbon services, including carbon
Footprint analysis and other services such as 'life cycle assessment' and 'remaining lifetime predictions'
Energy Management Systems and ISO 50001
Failure analysis (e.g., product defect evaluation) .
Building materials assessment
Energy audits
Indoor environmental quality assessment
Material defect investigations
Code and regulation evaluations
Construction claims/delays
Site characterization
Water quality and quantity evaluations
Assessment and repair of building damages
Storm water, erosion, and sedimentation management and investigations